News
Environmental pollutants in large Norwegian lakes
Data from Norwegian monitoring programs make the basis for a suggested EU ban of certain chemicals in personal care products.
Published:
The levels of environmental contaminants in the pelagic food webs of lake Mjøsa, Randsfjorden and lake Femunden have been mapped since 2013. In these three lakes, there is moderate, little and negligible environmental influence, respectively, of discharges from the local communities, agriculture and industry. The research is done by The Norwegian Institute of Water Research (NIVA) and The Norwegian Institute of Air Research (NILU) on behalf of The Norwegian Environment Agency and is part of the monitoring program "Environmental pollutants in large Norwegian lakes" ("Miljøgifter i store innsjøer").
The monitoring program was started in 2013, and runs for four years. The results from 2015 were in November 2016 published in a comprehensive report, in which supplementary material from fish from lake Tyri (Tyrifjorden) and lake Vansjø were also included.
Siloxanes
High levels of siloxanes in fish have been recorded in the "Environmental pollutants in large Norwegian lakes" program over several years. This year´s recordings revealed a slight decline compared to previous years, but the levels of siloxanes are still high.
Siloxanes are used in large amounts in personal care products like shampoos and soaps. The siloxanes investigated in this program are D4 - octamethylcyclotetrasiloxane, D5 – decamethylcyclopentasiloxane, and D6 – dodecamethylcyclohexasiloxane. These chemicals are used in products that most of us have in our homes.
Only in Europe, it is estimated that 20 kilo tons of siloxanes are emitted into the environment every year.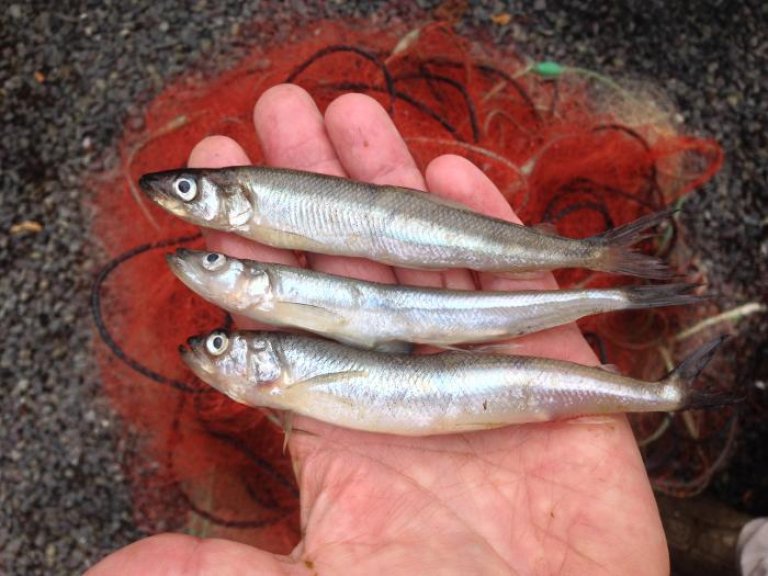 Buildup in the food web
The information about siloxanes, and how the chemicals behave when they enter the environment, is still limited, but the knowledge we currently have is worrying.
- Siloxanes are not acute toxic, considering the fact that it is something we apply directly on our skin. The problem is that these substances are only slowly degraded in the environment and their concentration build up in the foodweb, says Eirik Fjeld, senior research scientist at NIVA.
A few years ago, it was discovered that D4 is toxic to several organisms, and it was replaced with D5 in various personal care products. Now it now turns out that D5 is also harmful. D5 is not regulated by international conventions today, and one reason is that there has not been evidence that the compound builds up (biomagnifies) in the food web – until now. Data from NIVA´s investigations 2010-2013 are the first to indicate that D5 does biomagnify. The results are controversial, and have evoked debate in the academic communities.
EU ban of siloxanes?
Due to NIVA´s findings, D4 and D5 are listed on The Norwegian Environmental Agency´s list of unwanted chemicals, and within 2020, the discharge of D5 will be reduced drastically or totally stopped in Norway. The EU is following, and a restriction of D4 and D5 under the REACH regulations is under consideration.
Precautionary principle
Eating fish from Norwegian lakes poses no risk, says Fjeld, but he stresses that siloxanes are substances that are only slowly degraded, and that we do not fully understand the consequences of them yet.
- The precautionary principle, which is used in environmental management, indicates that siloxanes are not something we should emit into nature in an uncontrolled manner, Fjeld says.
Campaign
The municipalities with shoreline to lake Mjøsa have now come together to work for a cleaner lake. On the 10th of November, 55 politicians and specialists gathered at the milk factory at Kapp at the initiative of the museum Mjøsmuseet. This can be the beginning of a new campaign; a new "Action for Mjøsa" (Mjøsaksjon).
PFOS in lake Tyrifjorden
As part of the "Environmental pollutants in large Norwegian lakes" program, NIVA and NILU have also taken samples of 25 perch off Storøya in lake Tyrifjorden, Hole municipality.
The levels of PFOS (perfluoroctanesulfonic acid, a fluorinated compound) in lake Tyrifjorden were comparable with perch in lake Vansjø in Østfold county. Lake Vansjø, which is the smallest lake of the two, has had substantial inflow of PFOS from the local airport Rygge, where PFOS was used in fire extinguisher foams.
- PFOS is among the contaminants that we follow closely both nationally and internationally, says Fjeld. He informs that PFOS is now banned in Norway and Europe.
- It is concerning that a lake as big as Tyrifjorden has such high concentrations of the substance, he says.
The sources of PFOS in lake Tyrifjorden are still unknown. The County Governor (Fylkesmannen) and The Norwegian Environment Agency is now working on establishing a new monitoring program which can follow up the results from the current findings, and they hope this will help identifying the sources of the fluorinated compounds.
Mercury is still a problem
While legacy persistent organic pollutants (POPs) are declining, mercury shows an opposite trend; There are still high levels of mercury in several of the lakes included in the study. Lake trout from lake Randsfjorden and fish from lake Mjøsa holds the highest concentrations.
The Norwegian Food Safety Authority gives dietary advice regarding consumption of fresh water fish. If a trout is bigger than 50 cm, it holds mercury concentrations that exceeds the recommendations of the EU and The Norwegian Food Safety Authority.
It is estimated that more than half of the mercury found in air originate from old pollution that is evaporated from soil, water and sediments.
Last updated