Projects
S-ITUATION
The Nordic Council of Ministers has launched a research programme running from 2021-24, encouraging the Nordic countries to work together and enhance their knowledge base on nature-based solutions, restoration, climate mitigation and blue/green infrastructure.
S-ITUATION is the first of five projects under this programme.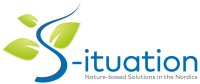 Project period

-

Funders

The Nordic Council of Ministers

External webpages

Contact person

Isabel Seifert-Dähnn

Involved from Niva

Ingvild Skumlien Furuseth
Caroline Enge
Benjamin Kupilas
About the project
Nature-based solutions (NBS) are ways to tackle climate change while at the same time strengthening biodiversity and delivering ecosystem services to humans.
While there are many international reports on NbS, there is a need for an overview of NbS covering the breadth of Nordic ecosystems.
The S-ITUATION project aims to synthesize and present existing research on NBS relevant to the Nordic context, including relevant projects and experiences, policies, knowledge gaps and cost-benefit analyses.
S-ITUATION is the first of five projects in the Nordic Council of ministers' four-year programme on nature-based solutions in the Nordics. This is an important part of the Nordic countries' ambition to become the most sustainable region in the world within 2030.
A key output from the project is a compilation of existing NBS projects and actions in the Nordic Countries. S-ITUATION will synthesize and summarize the experiences from these (both positive and negative).
To do this a synthesis (combining scientific literature and targeted NBS projects) is needed, covering the breadth of Nordic terrestrial and aquatic ecosystems as well as cost-benefit aspects potentially associated with these. We therefore aim to extract the most important knowledge and results relevant to underpin future application of NBS within the Nordic countries.
S-ITUATION has resulted in a report, a policy brief and several fact sheets that can be downloaded here (external link).
NIVA is also leading two projects that are building on the findings in S-ITUATION, named S-UMMATION and A-DVICE.
Project partners
The S-ITUATION project group consists of partners from five Nordic countries:
Norway (NIVA – Norwegian Institute for Water Research)
Denmark (Aarhus University)
Finland (Luke – Natural Resources Institute)
Iceland (Agricultural University of Iceland)
Sweden (Lund University)
The project was lead by Leonard Sandin (now in NINA - Nowegian Institute for Nature Research).