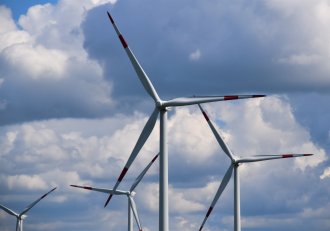 Renewable energy
Water, wind and sun are sources of renewable energy, but there is a need for good solutions for nature and industries.
If we are to be able to achieve the Paris Agreement's goal of limiting global warming to "well below" 2 °C and preferably to 1.5 °C, a conversion of the world's energy systems from fossil to renewable energy is crucial. Renewable energy reduces greenhouse gas emissions, but is not without challenges, e.g. for nature and nutrition. The goals of safeguarding and restoring nature in the new Global Biodiversity Framework must also be achieved. Several energy companies have recently introduced targets related to nature positivity.
In Norway, we have developed a lot of hydropower, but this has not happened without consequences for the river's ecosystems. Fish, such as wild salmon, sea trout and eel, are at risk when rivers are regulated for hydropower production. Other challenges are mass growth of aquatic plants and habitat loss in reservoirs.
Wind power has great potential in Norway, and "nobody" wants land-based wind power in their immediate area. Territorial conflicts and human rights issues have received a lot of attention in the debate, but nature is also affected by large-scale wind power development.
Offshore wind is land-intensive, both at sea and in the coastal zone. Sea wind affects the marine ecosystems through, among other things, habitat changes, risk of alien species and changes in carbon stocks in the seabed. Good coexistence with nature, fisheries, maritime traffic, and other sea-based industries, is important. However, climate change is one of the biggest factors affecting Norwegian sea areas. Life in the ocean will benefit from ocean wind through reduced warming, but it will take time for this to happen. In the meantime, nature must be safeguarded at all stages of sea window development.
The production of both solar power and offshore wind requires rare minerals and metals.
This is how NIVA can contribute
If we are to resolve the tangles that arise when nature and industry are pitted against renewable energy, we need a broad and reliable knowledge base. Such a knowledge base will let us understand the scope of various interventions and make it possible to find good solutions for nature and industries.
NIVA has an interdisciplinary research environment, with experts within a number of disciplines. We have extensive experience in marine biology and freshwater biology, mapping and monitoring of ecosystems, nature restoration, nature-based solutions and nature-inclusive design, artificial reefs and rewilding, oceanography, and ecotoxicology, microplastics, aquaculture, kelp farming, management, spatial planning, and stakeholder involvement.
Why does NIVA work with renewable energy?
NIVA primarily works with renewable energy related to the aquatic environment, that is, hydropower, offshore wind and liquid solar. Green conversion requires knowledge and a high level of competence, but also that we take nature's tolerance limits into account. We at NIVA can supply the necessary knowledge. We also know a lot about where the tolerance limits are - especially when it comes to our water resources. Bearing in mind that water is the most important energy resource in Norway, we are strengthening our efforts in renewable energy going forward.
RELATED TAGS
View related publications for: Renewable energy