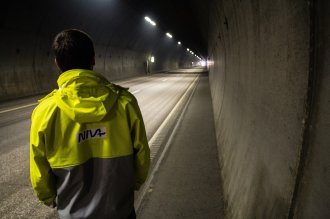 Urban Environment
More buildings and more people, those are the facts of the world's cities and towns. The densification requires more smart and robust solutions.
All over the world, people are gravitating towards the cities. Today, more than half of the world's population lives in urban areas. This development has also been explosive in Norway. As in Oslo, where at the start of the 19th century, just over 9,000 people lived. Today, according to Statistics Norway, the city has around 700,000 inhabitants. During these years, almost everything has changed: the infrastructure, the standard of living, the roads, transport, the construction industry - and the climate.

Climate change is causing increased rainfall. Due to the risk of flooding, the combination of densification and heavy rain is a challenge. Stormwater from rain and melting snow can damage urban infrastructure, buildings, affect people's health and the living conditions of animals and plants. This is caused by, among other things, several pollutants (such as nutrient salts, particles and microplastics, metals, organic pollutants, pharmaceuticals and disease-causing microorganisms) via e.g. the storm water, and the overflow from the sewage network is transferred to the urban water bodies. In turn, these substances come from several different sources, such as roads and traffic, buildings with different facade materials, excrement from the city's wildlife, including pets, littering, industry, and faulty connections in the stormwater network.
By 2030, 60 percent of the world's population will probably live in cities. Urbanization and the increased need for transport and communication require a sustainable societal infrastructure. The solutions must have the least possible impact on the environment, and at the same time be sufficiently robust against climate change. This means that we must manage drinking water, wastewater, and storm water in a smart manner, to protect the urban aquatic ecosystems.
NIVA can contribute to this
We have knowledge of the sustainable management of drinking water, wastewater, storm water and urban water bodies. Our expertise includes:
Urban hydrology and hydraulics
Transport and effects of pollutants, from source to recipient
Monitoring using sensor technology
Water and sewage treatment with technical and nature-based solutions
Map-based presentations
Diffusion models
Restoration of water bodies
Why does NIVA work on the urban environment?
Our expertise in water, pollution, biology, and management are important contributions to developing a knowledge base for overall sustainable community infrastructure. NIVA contributes to a better understanding of the environmental and societal consequences of urbanization and densification for the water environment in a changing climate.
Get in touch if you want to know more about what we can contribute to on this topic.
View related publications for: Urban environment