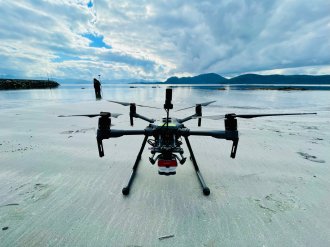 Research infrastructure
Infrastructure is a key part of environmental research and monitoring. Using sensors and other technologically based infrastructure, researchers collect data to help them answer important questions and develop new knowledge.
Research is not just desk work. At the desk, one can form hypotheses and find the best questions. To find the correct answers, researchers must use infrastructure, whether it is observations and sampling in the field or analysis in the lab.
Technical IT infrastructure carries data from instruments in the lab, from sensors, drones and other platforms in the field, or from the research stations, all the way to the researchers' PCs. Then it is the researcher's job to continue working with the data, analyse the results of the observations, measurements, samples or experiments, to develop knowledge.
Infrastructure is everything from our internal IT infrastructure and the cloud services we use, to the sharp end of research informatics, which is about processing and analyzing large amounts of data.
NIVA has stationary loggers in the field that measure and provide us with real-time data we use for research and monitoring. We generate long data series that make it possible to say something about developments over time, which is essential for climate and environmental research.
By using infrastructure, technology, and sensors, we can be in many places at the same time, and we can be there more often than if we had to be there ourselves, physically. It is cost-effective, environmentally friendly, and efficient. But the most important thing is that it gives us an increased amount of data, and of higher quality.
Technology cannot do the job alone. NIVA is engaged in pioneering work to develop technological research design, so that we are at the forefront of always developing the knowledge base for environmentally friendly management and use of our water resources.
RELATED TAGS
View related publications for: infrastructure