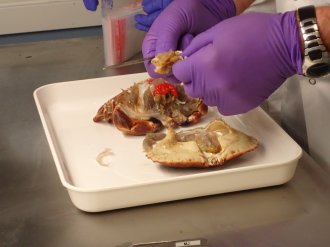 Environmental Contaminants
Environmental toxins are dangerous to humans, animals and nature. Monitoring and research are central to the fight against toxins.
Environmental pollutants are substances we know or suspect to contaminate the environment. Some of the pollutants decompose very slowly in nature. We call these persistent pollutants.
Pollution of the natural environment affects the soil we grow food in, the oceans in which fish live, the air we breathe and the food we eat.
The fluorinated substances PFAS are one example of environmental pollutants. This large group of synthetic substances has many properties that make them useful for a large number of applications in many industries and products. They can be found, among other things, in cosmetics, food packaging and textile impregnation, firefighting foam and pesticides. Many of the fluorinated substances are transported far away by air and sea. Even in the Arctic, PFAS has been found. These substances are hazardous to health, they accumulate in the body and it takes a very long time to break them down in nature.
The Environmental Specimen Bank is a tool in the national and international fight against environmental pollutants. The Norwegian Environment Agency is responsible for the sample bank, while NIVA further develops and operates it. It contains a number of deep-frozen samples, including from fish and birds. These can be analysed when new methods are developed. This provides insight that increases the possibility of implementing mitigation measures for both old and new pollutants.
NIVA can contribute with this
We offer a number of different services within the field of environmental pollutants, here are some of them (not exhaustive list):
Mapping and monitoring of water flows and discharge points in connection with enterprises

Mapping and monitoring of the pollutant situation in water, sediment and biota

Source tracing and quantification of inputs to the aquatic environment
Development of monitoring methods

Assessment of bioaccumulation and effects of contaminants in aquatic food chains (marine and freshwater)

Testing of the effects of chemicals on cells, individuals and populations, according to international standards

Development of alternative techniques for testing chemicals and analytical methods

Research on how chemicals behave in the aquatic environment and ecosystem, and assessment of environmental risk
Why does NIVA work with environmental toxins?
Research on environmental pollutants is one of our priority areas. This indicates that we have suitable methods for tracking sources, mapping pressure, monitoring the state of the environment and assessing the effects of pollution. Method development is therefore a key part of our work on environmental pollutants.
Monitoring the environment is at the core of our activities – and such monitoring provides authorities with the knowledge base for implementing environmental measures nationally and internationally.
Contact us if you want to know more about how we can contribute in this area.
View related publications for: Environmental contaminants